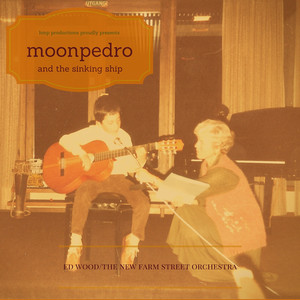 ED WOOD/NFSO
ALL SONGS WRITTEN BY PEDRO CARMONA-ALVAREZ
Recorded by Lars Heintz, Iver Sandøy and Pedro Carmona-Alvarez during the white bright summer of 2005 at Grieghallen Studios. Iver, Paddy McManus and Boy Volvo did some backing tracks before Lars and myself made the studio a bunker of sorts. The record was released in 2007 under the name of Moonpedro and The New Farm Street Orchestra by Oslo label Honeymilk. NFSO being the Bergen street where our favourite bar was; we kind of grew up there. The record was my first attempt at traditional songwriting, but I also wanted to record it and mix it myself; someone told me I couldn´t do it, that I wasn´t up to the task, and so I decided to mix only with earphones. I knew nothing about anything back then, soundwise, and I guess the album suffers from that, to some degree. I still like some of the songs, though. And that´s the important thing.
THE PERSONELL
LARS HEINTZ, IVER SANDØY, PADDY MACMANUS, BOY VOLVO, PEDRO CARMONA-ALVAREZ
THE SONGS
DYLAR
LARS – VOCALS
PEDRO – VOCALS, GUITARS, PIANO, TAPES, SYNTH
I wrote this while working at the local museum, as a reseptionist; I was reading Don Delillos White Noise and I´m sure some of the gloom comes from it. The rest must be the early 00´s fault.
BIRTHDAY#2
BOY VOLVO – BASS
EIVIND MANEESH – VIOLINS
LARS – VOCALS, PERCUSSION
PEDRO – VOCALS, GUITARS, DRUMS
I have three different birthday songs. The first one is an ureleased Sister Sonny Track from the Lovesongs sessions (1999). The third one was written for the Ed Wood album, recorded acoustically, but never used even though it´s the best of the three. We later recorded a pretty good, Orbison-esque version at The Lax, also unreleased; Anyway, #2 was an attempt to write a catchy upbeat pop song, listen to the bap bap-backgrund vocals, jangly guitars and tambourines. All drowned by the violins.
FRANK SINATRA
BOY VOLVO – BASS
PEDRO – VOCALS, GUITARS, ORGAN, PROGRAMMING
I dreamed this. Woke up. Wrote it down. No idea what it means.
WE´VE JUST STARTED SMOKING POT AND EVERYTHING SOUND WONDERFUL
LARS – VOCALS, PERCUSSION
PADDY – GUITARS
PEDRO – VOCALS, GUITARS, BASS, DRUMS, SYNTH
I found the title to this song somewhere and thought it was funny. It´s a love song of sorts, I guess, even though it doesn´t add up.


AIRPORT#2
PADDY – GUITAR, VOCALS
PEDRO, VOCALS, GUITAR
This one was written in an airport, of course; I was tired of travelling and wanted to get home. It was one of the first songs I wrote that I really liked. It´s simple. It namechecks Leonard Cohen and Brian and Dennis Wilson.
DECEMBER CREEPS
LARS – PERCUSSION
IVER – DRUMS
PADDY – GUITARS
PEDRO – VOCALS, GUITARS, BASS, ORGAN
This is one of the songs I really wished I had taken better care of. I think it´s tracked poorly and the sound doesn´t do it justice. Around the time of this record I was listening obsessively to Dylan´s music, especially the amphetamine era, and this was written with that sound in mind. The lyrics I still find good, heartbreaking and mysterious.
MILLIE YEAH
LARS – PERCUSSION, VOCALS
IVER – DRUMS
PADDY – GUITARS, VOCALS
PEDRO – VOCALS, GUITARS, BASS, PIANO, ORGAN
A quirky song, this one; I like the playfulness of the words, the nonsense in the story, and I sort of like the music as well. It was written on organ, trying to be Stephen Malkmus.
RAT COUNTRY
PEDRO – VOCALS, GUITARS, ORGAN, NOISE
Lars and Boy Volvo and I lived together for a while after BV lost his appartment and I had very rightfully been kicked out of an apartment by the person I used to live with. Lars had a small place and we all lived there, in the living room, on the floor. Great times. When they demolished a whole block not far from the apartment (to build a giant parking lot) the whole neighbourhood was flooded with rats. It seemed like a good metaphor for our shitty drug fuelled lives and the time.
A GOOD LAY
LARS – PERCUSSION
IVER – DRUMS
PADDY – GUITARS, VOCALS
PEDRO – VOCALS, GUITARS, BASS, ORGAN
The best version of this song is a demo Lars and I did at Galapagos, the Sister Sonny Project Studio. This one is too rushed and not subtle enough. It´s about drugs, make-up, masks, drinking, sex. The last decadent song, maybe.
TWENTY COMMON MISTAKES
PEDRO – VOCALS, GUITARS
Dylanesque, again. The words are good. I like the length of it.