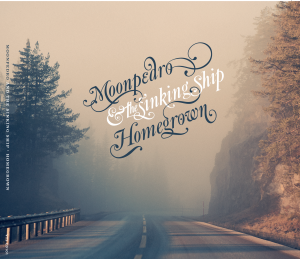 ALL SONGS WRITTEN BY PEDRO CARMONA-ALVAREZ
Recorded by The Sinking Ship High Tech Crew in apartments, at The Lax, Solslottet Studios and in our sleep. It was written and produced by Pedro Carmona-Alvarez, and mixed by Pedro Carmona-Alvarez with Einar Sogstad at The Lax. Chair Hand Man mixed by Pedro and Iver Sandøy at Solslottet. Photograps were provided by Line Møllerhaug, cover art design by Øystein Vidnes. Special thanks to all the musicians involved, to Unni Torgersen for being a cool cool cat, lots of kisses to Eva Lene and Blixa, and a big big love to Einar Sogstad for never sleeping, and for carving out a big motherfucking sign on his chest saying: Yes.
THE PERSONELL
Pedro Carmona-Alvarez, Einar Sogstad, Iver Sandøy, Stig Pluto Wålberg, Paddy McManus, Inge Pinge Rypdal, Lars Heintz, Anders Bitustøyl, Karianne Foss, Elisabeth Yndestad.
THE SONGS
BILLY GHOST
Einar – Piano
Pedro – Vox, bass, guitars, piano, organ, drums, percussion, programming
This song was written in an apartment in Santiago, Chile, where I spent some time in 2008-09 to finish a novel that tried to swallow everything around it. It was written on a nylon string guitar but I couldn't figure it out until much later, in an apartment in Bergen, when I recorded the piano part and programmed some drums. It's one of those songs that Sister Sonny used to hate me bringing in. I always liked it, though. I always liked that kind of minor chords changes. It makes everything sound Polish, or Argentinean.
LIPSTICK TRACES
Einar – synth
Paddy – backing vox
Pedro – Vox, guitars, bass, synth, organ, drums, percussion
This one too, was written in the Santiago apartment, looking at the Andes and a cluster of junk food restaurants. I remember dogs howling all night, darkness even warmer than the daylight, countless cigarettes burning it all up. It's probably a sort of apology, trying to direct a mumbled speech at several ghost-like appearances. It was recorded everywhere, several times over, trying to find it's ideal form. This is what we settled for. I like the bells on the verses.
TWO RIGHTS
Stig Pluto – Drums and percussion
Pedro – Vox, guitars, bass, synth
I wrote this in an apartment in Bergen, and it came out like Athena, all grown up, with all it's parts already in place. I recorded it in the living room the same day, and brought Stig in to play drums on it later. It's about winning and losing at the same time. It's possible, you know.
BLOW WIND BLOW
Einar – Organ
Paddy – Guitar
Iver – Drums
Anders – Bass
Elisabeth – Backing vox
Pedro – Vox, guitars
This is one of my favorites. I'm sure I stole some of it's lines from some old folk songs, but I can't remember which ones. We recorded this version in a shitty rehearsal space we had before setting up The Lax. It later burned down, after an Italian guy fell asleep, drunk, with a pizza in the oven in the middle of the night. We lost some guitars, some keyboards and a great sounding vintage drum kit that we all miss. I kept Elisabeth Yndestad´s first vocal take, even though she begged me to record her again. Nope.
ON CHESS
Einar – Piano, organ, synth, The Fez
Iver – Drums, percussion
Paddy – Guitars
Inge – Guitars
Pedro – Vox, guitars, bass, The Animal
I wrote this on piano, at my parents house. It's a nightmare of sorts, and was one of the most difficult songs to get right. It sounds drowned. File under water.
SEE THE MISTRESS STRIP
Einar – Drums, percussion
Pedro – Vox, guitars, bass, organ, synth
A ditty, the melody simple and dumb. The imagery circles on how to create something, how to be able to spot it and give in to whatever the song asks you to. Afterwards you're alone again. She's off. She's always off.
TERRIFYING BIG STRAWBERRIES
Einar – Piano, organ
Iver – Drums
Pedro – Vox, guitars, bass, piano, synth
The title to this song is a nod to a beautiful song by Ai Phoenix, called Terrifying Big Ants, which is, of course, a far better title. I was trying to write it on top Ai Phoenix, using elements of their melody and chord structures. I don't know what it's about. Getting away, maybe. Staying. Becoming someone else. Masquerading. I love Einars organ parts on this one, and his piano, terrific stuff. He sounds like he's about to be shot in the back.
THE CHAIR-HAND MAN
Paddy – Guitar, backing vox
Inge – Bass , guitars
Pedro – Vox, guitars, drums
When I was a teenager I really enjoyed watching American high school movies, you know, the kind of film where the geeky guy is in love with the most popular girl. Or the other way around. A world of princesses and assholes, just like adolescence itself. This song was my take at writing a high school drama. It's sad, but the music's not, I think. We told Inge to play like Robert Fripp on Heroes. In the eighties, this song would've been a minor hit, I'm sure.
SIDE OF THE ROAD
Einar – Piano
Karianne – Vox
Pedro – Vox, guitars, bass, organ, drums, percussion
Everything in this song is true. I still don't understand how we managed to sing it.
THE LAKE
Iver – Drums, percussion
Paddy – Guitar
Pedro – Vox, guitars, bass, piano, synth, The Animal
This was written in Bergen, originally titled #5. For some reason or other I have four other songs about a lake, or with a lake in them. I don't know why. The bass and keyboards lines on the choruses are stolen from U2´s New Year's Day.
SAME SAME
Einar – Piano
Iver – Drums, percussion
Paddy – Guitar
Pedro – Vox, guitars, bass, piano, organ, synth
This recording is ragged and seasick, but we didn´t want to re-record it, as it has some magic to it. I did it alone, on piano, before adding lots of stuff to it. Sometimes certain songs seem to come to you from a far away place, as if they'd been there for ages before you happened to pick them up. It's a letter, a whisper, maybe, to someone long lost but never gone. I wrote it while reading Jonathan Franzen´s novel Freedom. It may have some of it here and there.